CALL or TEXT 919-222-8769   to have your name placed on the call list.  contact us   TODAY!
I appreciate the opportunity to help you learn!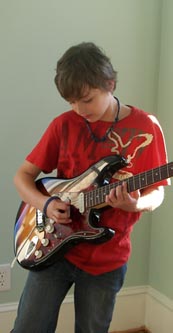 A versatile musician with nearly 35 years of guitar playing and 20+ years of teaching experience, I have helped many people of all ages and interests become the musician they want to be.
Whether you're an experienced musician who is interested in expanding your knowledge base or just getting started, I can help you too!
Lessons are tailored to your musical interests.

Music Appreciation, Histories, and a selection of instruments to play are other features that are included in our learning experience
Topics of Discussion
Basic Elements
-Guitar Anatomy
-Tuning
-Timing
-Posture
-Dexterity Exercises
-Picking Exercises
-Practice Habits

Resources-Sites, Apps, etc.

Tools and Equipment
-Chord Shapes
-Techniques
-Approaches to rhythm guitar
-Approaches to picking & strumming
-Walks and fills
-Introduction to common gear

Playing Songs
-Intro to written music
-Learning songs from books
-Learning songs by ear
-Learning songs through demonstration

Creating Songs
-Choosing chords
-Developing ideas
-Arranging ideas
-Basic music theory

Lead Guitar
-Scale Patterns
-Scale Theory
-Licks and runs
-Choosing scales
-Solo strategies
-Improvising

Tips
-Basic instrument care
-Developing your guitar sound
-Choosing Equipment
-Music Ownership